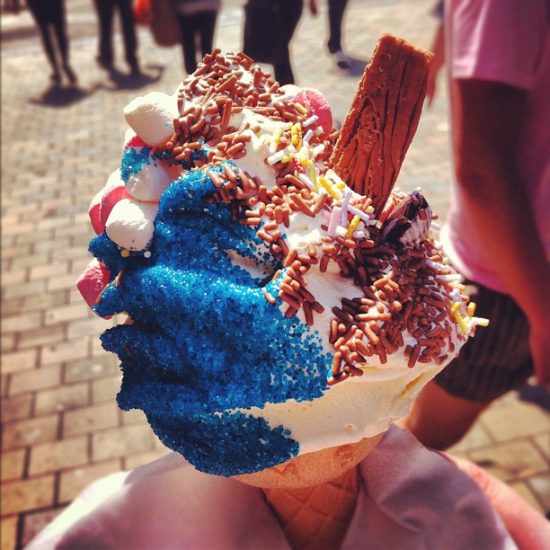 Dev Ice Cream
Something I've wanted to do for a while – and have added to my Epic Quest as extra motivation – is create a silly side-project. A bit of fun to work on in my free time for no real purpose than to make someone (even just me) smile for a minute when they see it.
The result so far is DevIceCream.co.uk, 'spontaneous ice cream for digital types'. The idea being that people can follow a Twitter account (or hashtag) or sign up for 'ice cream alerts', which will go out spontaneously on sunny days, summoning people for ice cream in Leeds.
A little background
In the summer of 2012, while working at Cloudspotting, Philip – another developer in Leeds – arranged a spontaneous walk up to an ice cream van in town with some other design/dev types. Fun was had, debates raged over the proper name for kali/sherbet, and ice cream was consumed. A nice lunch-time meet-up courtesy of Twitter. Philip christened it #twicecream – a portmanteau of Twitter and ice cream that all agree is terrible.
More recently, I spotted the question "How can I spend my $35 to get the best return on investment?" on Quora. In particular, I found Leonard Kim's answer really interesting. In essence:
Buy a cheap domain
Get some cheap hosting
Get some schmuck from Fiverr to make you a logo
Set up a website – use a platform like WordPress for extra speediness
Choose a purpose for your site
Do something with social media
?????
Profit
There's more to it than that – and I recommend you read the whole thread – but what I think Leonard was getting at is that a website can be set-up quickly and cheaply, and you never know what can come of it with a little perseverance.
Having a bash
#Twicecream was mentioned again recently when the sun made an appearance in Leeds (ice cream didn't happen). I suggested a different name – #DevIceCream (geddit?) – and someone jokingly suggested buying the domain name. Later on, I did buy the domain and I quickly set up a quick site.
Trying to see what I could launch with minimal expense, I included a Mailchimp form sign up, and my mate Matt offered to design the illustrations for me, so the whole thing so far has cost just a few pounds!
If it leads to meeting up with mates once or twice this summer, I'll count it a success. Mainly, I built this as a fun little challenge for myself – a way to do something different. I'm looking forward to seeing what comes of it!