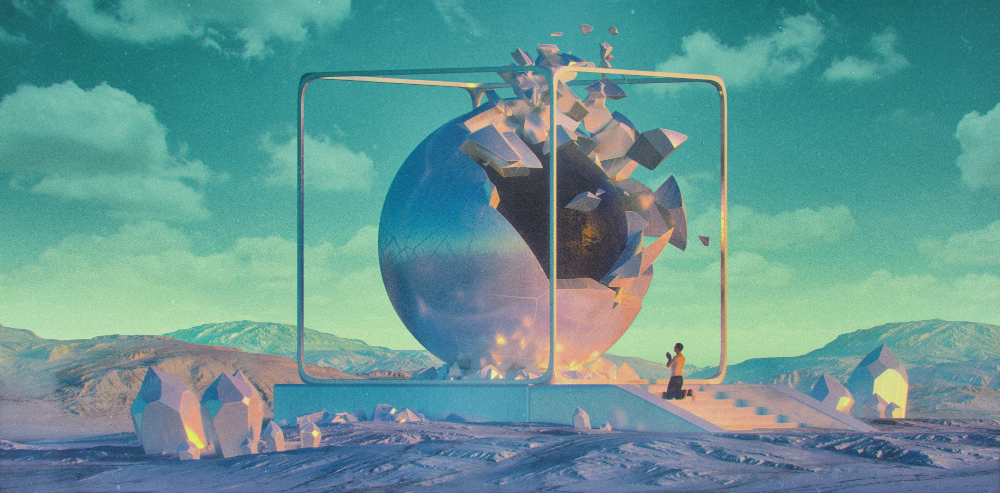 Daily art project ploughs on for 10 years
A lot of creatives I know – whether designer, developer, artist or musician – like to give themselves something of a routine. Some just take it further than others.
Creatures of habit
Design blogs and are regularly filled with people enthusiastically declaring the start of a self-set challenge like "100 days of doodles" or "a logo a day". Committing to this kind of challenge is definitely worthwhile if you can stick to it; routine allows for effective planning and practice, and helps to shape habits that can help in your creative process and personal development.
Sticking to this kind of routine is often more difficult than it sounds, specially when promise to post something online each day to hold yourself to account. Of all the something-a-day people I know, very few made it to the end of their challenges. Those that did have seen vast improvements.
Everydays
Beeple is a different kind of animal. In May 2007, graphic designer and CGI artist Beeple (government name: Mike Winkleman) set himself a challenge to create a new piece of art every day. Ten full years have passed, and Beeple has made something new for 3668 consecutive days as part of his project, which he calls 'everydays'.
Admitedly borrowing the idea from another artist as a way of getting better at drawing, doing 'everydays' has led Beeple to teach himself photography, 3D animation and illustration, as well as improve his understanding of composition and colour. From photo-manipulation to video, the project has been almost all-encompassing.
Beeple switches to a new medium each year to keep things fresh and try new things, but even then sometimes the daily grind is a struggle:
It's a numbers game and the you've got to get rid of all those crappy ideas before you can get to the good ones. Just showing up is 90% of the battle.
If there was ever proof that routine and good habits can lead to serious self improvement, then look no further than 'everydays'. Following Beeples lead I'm hoping to get myself into the habit of 30 minutes practise with my bass each day. Don't worry though, I won't be subjecting the internet to that kind of assault.